Adrenaline Comedy is the perfect show for any corporate event.
This show was designed to be customized around any client's needs.  
Whether those needs include an incredible show for employees to enjoy as a reward for all their hard work, or a crazy show that will not only keep the audience entertained, but also motivate them to think outside the box and encourage them to succeed, Brian has a knack for truly speaking to an audience to make them listen.
Brian spent 10 years training corporations in team building and communication using adventure activities and ropes courses.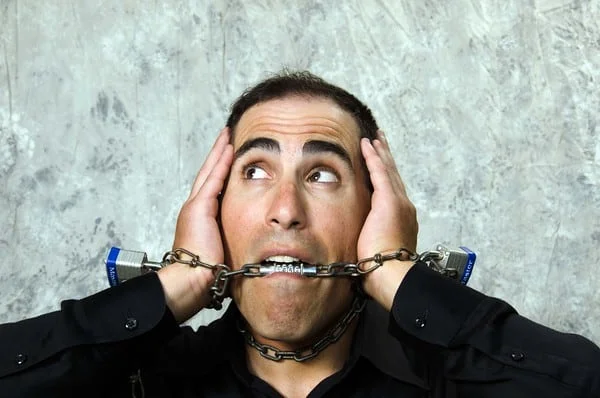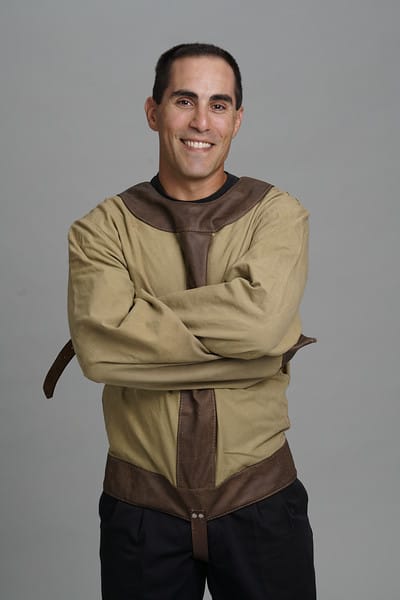 He will happily add a great message to the show – while letting a volunteer stand on his head in broken glass or getting out of two straitjackets at the same time while balancing on top of a two-foot ball.  
This show is also great for awards banquets.  
The show could be a full-length show after dinner, or just a couple of never-before-seen stunts spread throughout the evening's awards presentation.  
In addition, Brian could be the Emcee for the evening, using comedy, stunts, and most importantly, any message you want to deliver to your audience.
When you book Adrenaline Comedy for your corporate event, you get a show that the audience will never forget or stop talking about. 
You get a professional with almost 25 years of experience who has done hundreds of corporate events.  
And most importantly, you get exactly what you want, need, and hope for because Brian works closely with you to make sure all of your input goes into customizing the perfect entertainment for everyone involved.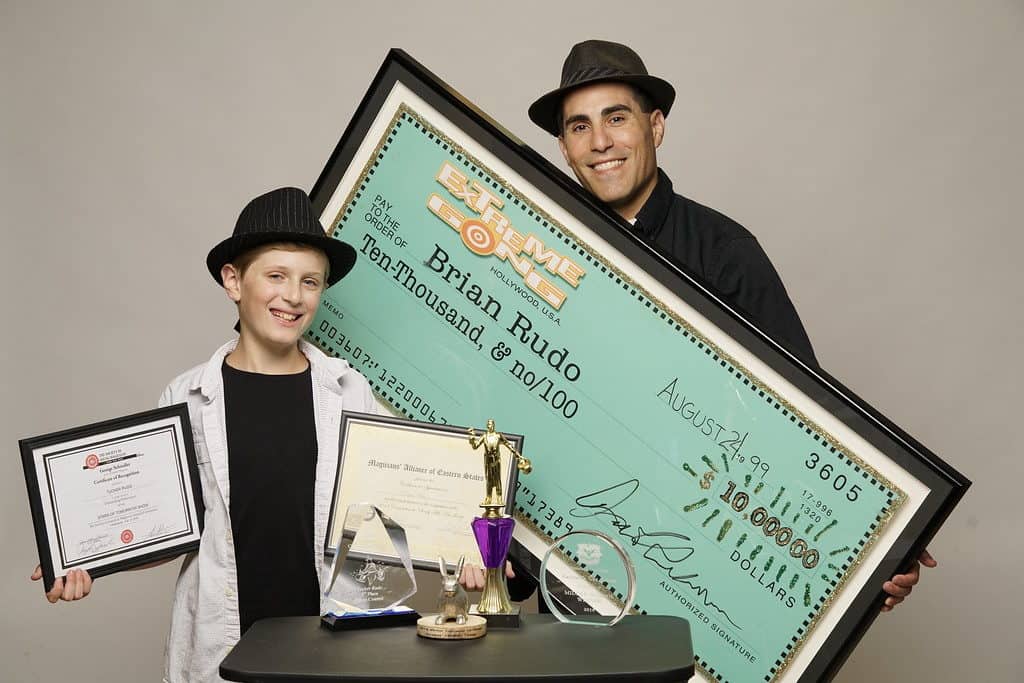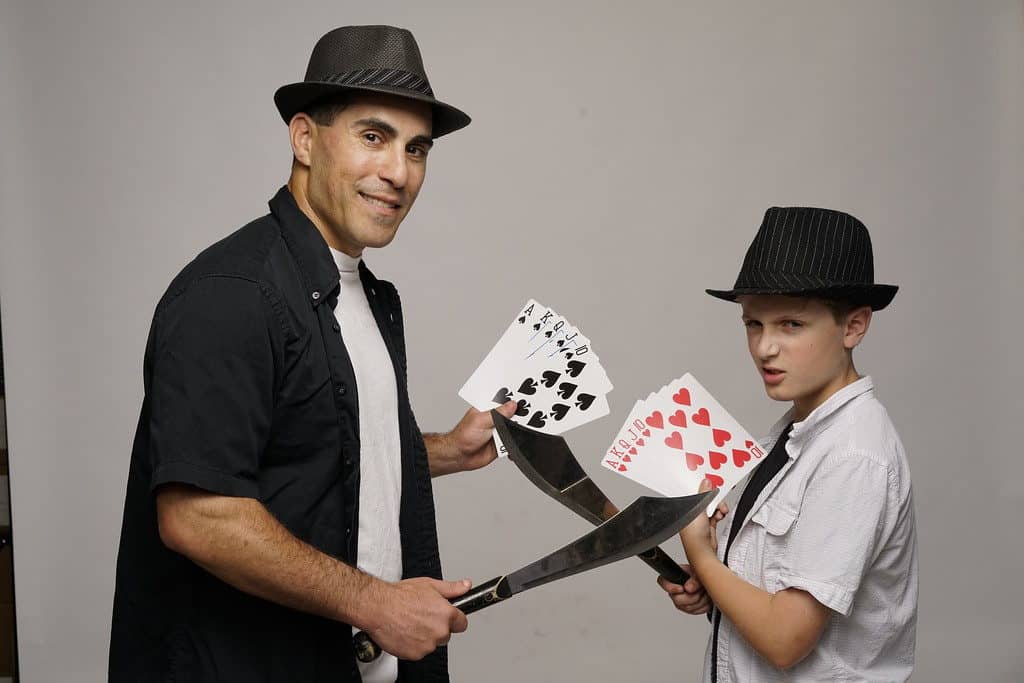 The Rudos is a great new option in the world of corporate events.
Who doesn't like to watch a talented guy perform incredible feats with a twist of comedy?  
Who wouldn't watch a super cute kid perform acts of mentalism, magic, and balancing with the composure, talent, and engaging personality of a grown man?  
These two award- winning acts have come together to deliver a 100% customizable show for your next corporate event.  
Need a big bang for your next awards banquet, company picnic, grand opening, holiday party, or any other time you need a unique way to get attention?  
The Rudos will personally design you the perfect show based on the environment, audience, and purpose of your event.  
Whether your needs are small, intimate miracles of magic that happen in people's hands during a reception or cocktail hour, up to a bring-the-house-down show including multiple Vegas-level acts never performed by anyone else in the world, The Rudos are absolutely the performers for your event.
Brian has worked with hundreds of different corporations throughout his career, and having his son with him now has only added to the originality, passion, and professionalism they bring to every event they work.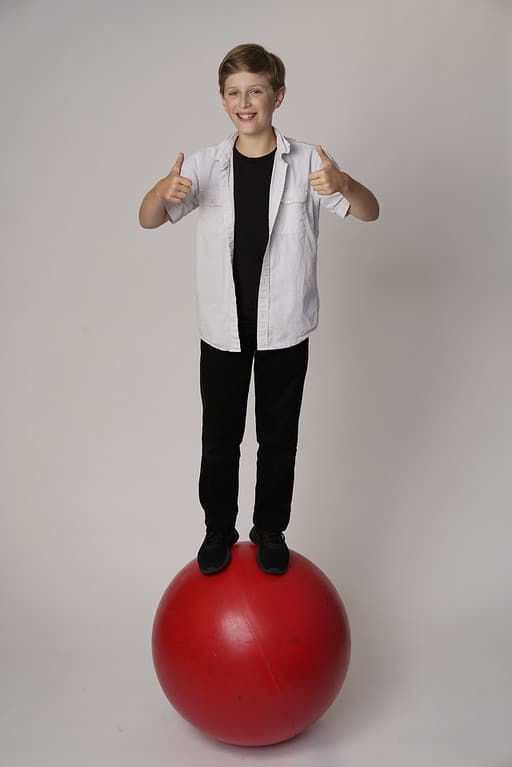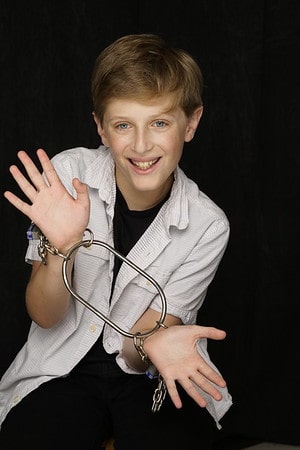 If you are planning a corporate event and are hoping to hire an act that people will talk about for years to come…  
If you are looking for someone professional, engaging, and talented who can take your event from average to awesome. then look no further.  
Tucker is that performer and he is just 11 years old.  
This will make him truly memorable, as he is an award-winning magician who has been performing more than half of his life.  
He has done many corporate events as both a stage performer and a close-up artist with intimate magic.  
He is super comfortable on stage and around grown-ups, as evidenced by The Winter Carnival Magic where Tucker won The People's Choice Award for stage magic against all adults.  
He can offer your event a polished, award-winning act delivered like an adult but performed by a kid.  
He can work the room during the cocktail hour to start a buzz and then take the stage after dinner to wow the crowd with feats of mentalism and his signature escape from a straitjacket while balancing on top of a two-foot ball.  
Please don't be misled by his height because Tucker has a ton of original acts and experience that will make your next event your best event.
Before the date of your event is taken…
"Brian was awesome on Saturday. He remained flexible and delivered an outstanding performance all the way through"
Bob, Event Planner
"It was a great performance with a large turnout that everyone enjoyed. We hope to work with you again in the future!
Assumption Campus Activities Board
"It was exciting to see him perform, it was crazy, insane and funny at the same time."
Lakeland College
"Thank you for making Midvale's celebration so memorable. Your performance was superb and professionalism equal."
Rich Marr, General Manager Midvale Country Club
"He's insane, insane yet extremely entertaining. I would not hesitate to attend another one of his shows"
Ferris Junior Ashlee Harris